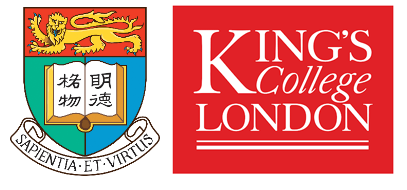 Background of King's College London
King's College London was founded in 1829 and is one of the top 10 universities in the United Kingdom according to latest QS World University Rankings.  It has nine academic schools of Arts & Humanities, Biomedical Sciences, Dental Institute, Institute of Psychiatry, Law, Medicine, Natural & Mathematical Sciences, Nursing & Midwifery and Social Science & Public Policy. Its academic excellence enables world class teaching, research and innovation in the service of society. 
 
The Joint PhD programme was introduced in 2010/11. It offers a valuable opportunity for students to pursue research in a wide range of disciplines as well as in topics that invite interdisciplinary and cross-cultural approaches at two premier universities in Asia and Europe.

Programme Features
Students admitted to the joint PhD programmes will:
be registered as full-time students at both universities and be able to enjoy their full range of academic and various facilities;
be guided in their work by faculty members from both universities, and be examined to the standards of both; and
normally split their time of study equally between the two universities and spend the last 6 months of study in the home university.
Admission
Interested applicants should first contact the Faculty concerned on available supervisors and subject areas
Students are required to meet the entry requirements of both universities:
Applicants can apply through either university, and they are required to submit one application only. The admission decision will, however, be made jointly by both universities.
Fees and Scholarships 
Joint PhD candidates will pay tuition fees to the admitting university for the whole period of candidature.  Applicants applying through the University of Hong Kong can apply for Postgraduate Scholarships.  Candidates who have outstanding academic performance or proven research records may apply for the HKU Presidential PhD Scholarship and Hong Kong PhD Fellowship Scheme. 
 
Students who pursue a joint PhD degree with King's in Integrative Medicine may apply for the HKU Postgraduate Fellowships in Integrative Medicine. The Fellowships, offered by the LKS Faculty of Medicine, give preference to students enrolled in the HKU-King's College London Joint PhD programme with HKU being the home institution.  For enquiries about the Fellowships, please contact the Li Ka Shing Faculty of Medicine directly. 
 
Award of Degree
Upon successful completion of the programme, a student will be conferred a PhD degree jointly awarded by the University of Hong Kong and the King's College London.